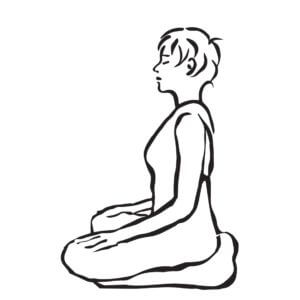 Contentment In Everyday Life (Online)
Open to all
Contentment in Everyday Life is the second course in Shambhala Training. It is preferable to take Meditation in Everyday Life, Shambhala Training Level I or Shambhala Training Level II prior to attending CIEL, but it is not required.
This Contentment in Everyday Life course is being hosted by the Shambhala Meditation Center of Albany, with Shambhala New York and three other regional Shambhala Centers participating virtually.
---
"Life is a good teacher and a good friend" - Pema Chödrön
---
Contentment can be hard to find. Much of the time we seek it in relationships, achievements or material things. With meditation practice, we learn to relax with ourselves and appreciate simple human experiences. Difficult emotions and the challenges of life can be met with gentleness, mindfulness and openness. We learn to rest in nowness and explore how to work with impulse and emotion.
This five-part course offers instruction on the following topics:
Class 1: Introducing Contentment: "Friendly to Oneself"
Class 2: Contemplating Contentment: "Nowness"
Class 3: Suffering & The Four Noble Truths: "Meeting Suffering with Gentleness"
Class 4: Working with Emotions & Buddhist Psychology
Class 5: The Confidence of Contentment
Together we'll experience the notion that true contentment is always happening now -- if we could just learn to relax and tune into it.
About Shambhala Training
The Shambhala Training path is a secular course of practice and study suitable for both beginning and experienced meditators, and open to people of any spiritual tradition. This comprehensive overview of mindfulness meditation and contemplative living practices presents the profound, simple and incredibly relevant view that when we foster a more awake and compassionate relationship with ourselves and with others, we can and are fostering a healthy transformation in society and our world altogether.
Testimonials:
"A sacred, grounding beam of light during a time when I needed it …so dearly. Even aside from the pandemic, I was so desperately craving a new lens for my life. So grateful to find it in these classes." — July 2020 participant
"Would definitely recommend - I thought this course was very thoughtfully put together. Teachers were excellent - very knowledgeable and experienced, very well-prepared, very present and in-tune with the class' needs. The course content covers a lot and goes nicely in depth on important topics. The discussion topics were profound and really nice to practice and learn with a community." — October 2020 participant
The Patron rate makes it possible to support our online programming at this time. Registration is limited so please register soon! Zoom information will be sent upon registration.
Please register in advance; last minute registrants run the risk of not receiving their Zoom link in time to attend.