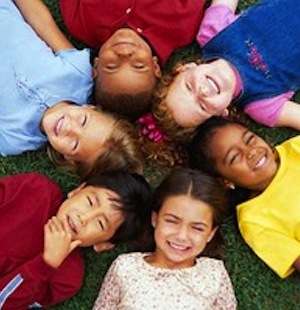 Shambhala Children's Program Bodhi School
with Alison Pepper
---
Please join us Sunday, March 1st at 10:45am. Our brown bag social hour will take place from NOON-1PM so please bring your lunch if you would like to stay.

The goal of Bodhi School is to provide a gentle and uplifted environment for children (and parents if space allows) to explore their heart and mind and to develop confidence in the basic goodness of all. Bodhi School is inspired by the secular Shambhala vision of an enlightened society.
We will again be able to offer two classes that meet at the same time for ages 5-9 and 10 and up. Our classes all include age appropriate meditations, art making, some movement or yoga, and discussion.
Parenting as Path Sitting / Discussion Group
Perhaps after sitting and during Bodhi School, parents are welcome to have a discussion to explore and apply the principles of mindfulness and Shambhala culture in relating with one's children. Children under age 2 are welcome to remain with their parents.
Bodhi School is a collaborative effort that is made possible through our teachers and parent participation.
Our lovely teacher for the younger kids will be Alison Pepper and Ian Sicks for the older kids and we will be collecting a contribution of $10 per child to cover the stipend. If there is any excess, it will be used for expenses related to the Shambhala NYC Childrens' Program (snacks, retained to pay for space rental in the future, etc.). Payments can be made in cash or via app ( Venmo, Paypal, etc.) the day of the event. I created a Paypal money pool as an experiment (allows for more transparency I think) but feel free to use whatever method you're most comfortable with.
There is no charge for a family's first visit. After that, there is a suggested donation of $10 per session for each child. We understand that this may not be affordable for every family, and we will gladly accept an offering in any amount that you can afford because it's important to our mission that everyone who is inspired to go forward on the Shambhala Buddhist path has our complete support. Further, if you're able to commit to supporting the program our current plan is to have 10 classes and it would be very helpful to cover the $1,200 teacher's stipend for the year ($100 per child) and if we have a lot of participation to allow us to rent a space if needed, etc.
Bodhi school will be held a little more lightly and informally and will be held in member's homes and weather permitting, outside. As a result, it will be important to have an accurate count of who is coming so please use the "tickets" below to RSVP. If you know you're not coming but want to let us know of your continued interest feel free to use the ticket option "Can't Attend"
Weather - Averages 40°/ 29° Record High 67° Record Low 10°
This event can be drop-off but if you'd like to connect with fellow parents, please indicate by registering the appropriate amount of parents below so that we can plan for appropriate space.
Our remaining events are tentatively:
Sunday, April 5, 2020
Sunday, May 3, 2020
Sunday, June 7, 2020
Our teachers
Alison Pepper
Alison is a therapist specializing in Buddhist psychotherapy as well as child and family therapy. She has been teaching childrens programming at the NY Shambhala center, Skylake, and Karme Choling for many years. When she isn't in the shrine room or therapy office you can find Alison in the garden or woods creating nature therapy group work and play based work for kids, families, and creative adults.
Ian Sicks
Ian will be joining us to lead the older kids. Ian has a background in theater and music and trained as a meditation teacher at MNDFL under David Perrin and works there as well. More to come!