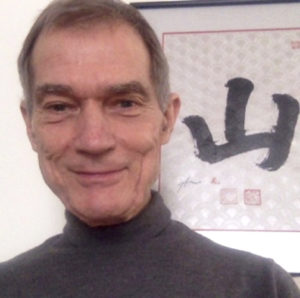 Shambhala Training Level I: The Art of Being Human (Online)
with John Rockwell
Open to all
This Shambhala Training Level I weekend program will be hosted by the Shambhala Meditation Center of New York, with four other regional Shambhala Centers participating virtually.
Shambhala Training Level I presents a thorough grounding in mindfulness-awareness meditation practice, as well as ways we can bring its benefits into our everyday life. Shambhala Training Level I: The Art of Being Human is open to all and is the first of five weekend retreats in the Shambhala Training curriculum.
---
Meditation practice isn't about trying to throw ourselves away and become something better. It's about befriending who we are already.

- Pema Chödron
---
About Shambhala Training Level I
This virtual study and practice meditation retreat weekend presents the view that at our core, we are fundamentally wholesome, decent, and worthy of respect no matter the circumstances we are in. Shambhala Training takes the approach that each of us possesses innate human wisdom, courage, and kindness. Meditation practice provides a way for us to connect more readily with these inner resources so that we can bring them out into our daily lives as we ring in the New Year.
The weekend includes talks, sitting and walking meditation instruction and practice, small group meetings with an experienced meditation instructor, and group discussion of the training material and experience. This program gives us an opportunity to connect with our natural confidence and relax to the freshness of the present moment, no matter what that moment may bring. We'll discover that practicing meditation is not about escaping from the world we live in but rather bringing a mindset of conscious presence to every aspect of our lives: work, play, relationships, emotions, and more.
Shambhala Training Level I is appropriate for beginning meditators or those looking to reconnect with the teachings and practice. Participants leave with the understanding, motivation, and tools they need to bring a mindfulness meditation practice into their daily lives, fostering a greater sense of connection with themselves and availability to others.
Shambhala Training Level I includes:
Guided meditation practice

Talks on Shambhala teachings

Question/Answer sessions after the talks

Small group Q&A's with a teacher

Group discussion
Recommended book: Shambhala: The Sacred Path of the Warrior by Chögyam Trungpa
About Shambhala Training
Shambhala Training offers a structured path of training in meditation and wisdom teachings rooted in the ancient Shambhala tradition and applied to the challenges of everyday existence and in contemporary society.
The Shambhala Training program consists of weekly classes and weekend meditation retreats suitable for both beginning and experienced meditators, and is open to people of any spiritual tradition.
This comprehensive educational system enables one to follow the Shambhala path of receiving the teachings, critically analyzing, and training the mind through meditation and contemplative practices. It is an effective way to bring harmony, strength, confidence, and wisdom to our daily lives as well as foster healthy transformation in society.
About the Teacher
John Rockwell has been on the path of dharma for 45 years. He met Chögyam Trungpa Rinpoche in 1975 and studied and practiced the Buddhist and Shambhala teachings for 12 years with him, and in particular worked with him on translating Tibetan texts into English. For ten years, he studied and taught at Naropa University in the Buddhist Studies department. For many years, he served as an acharya or senior teacher for Sakyong Mipham Rinpoche and also studied intensively with Khenpo Tsultrim Gyamtso Rinpoche.
Testimonials
"What a profound weekend; perspective shifting."
"It feels like everything has changed, even though my life is exactly the same as it was on Friday."
"I had been meaning to take this for a long time. It was a much deeper experience than just coming to the weekly talks. I have a new appreciation for retreats."
Open to all. Zoom information will be sent prior to the class. The Patron rate makes it possible to support our online programming at this time.
Please register in advance; last minute registrants run the risk of not receiving their Zoom link in time to attend.