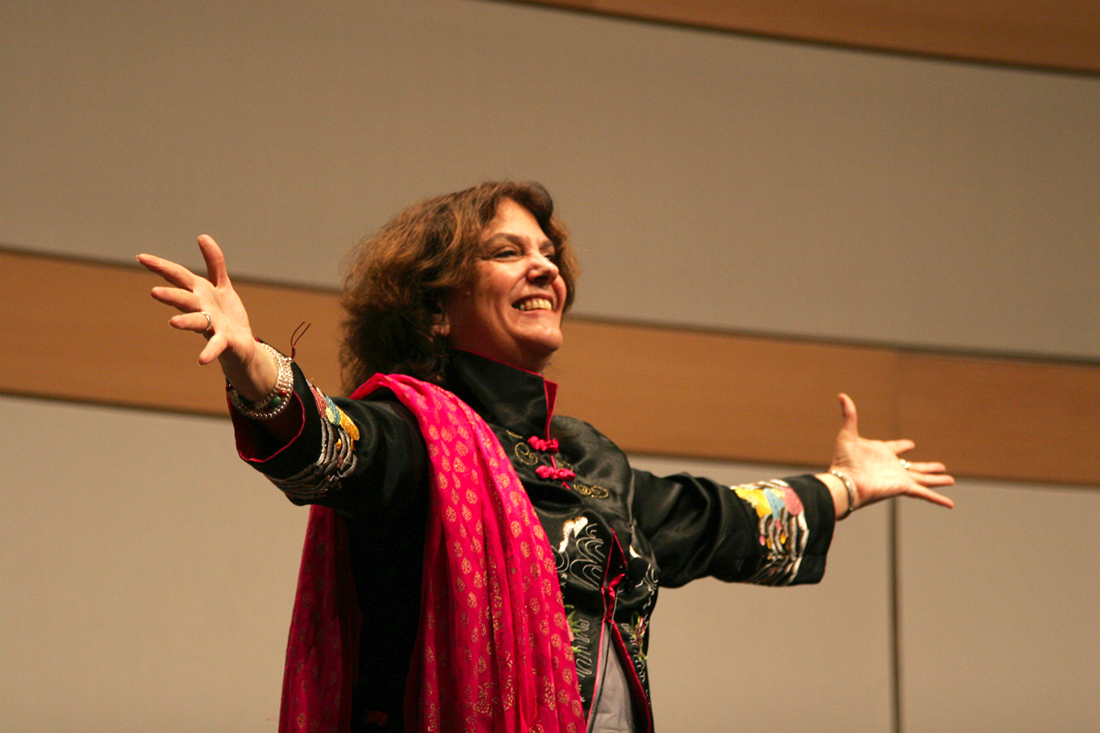 Dharma Gathering: In Love with the World (Online)
with Laura Simms
Open to all. Zoom details sent upon registration.
---
The crushing issues of our times — violence and bias, climate change, and variants of the COVID-19 virus — can either drown us in anxiety, rage or helplessness, or become the path of liberation itself. Meditation practice is a means of releasing us from illusion and fixation in order to succor our natural resources of compassion and insight, regardless.

About the Teacher

Laura Simms is an award winning performer, writer, and educator advocating storytelling as compassionate action for personal and community transformation. She performs worldwide combining ancient myth and true life story for adult and family audiences. She is the Artistic Director of the Hans Christian Andersen Storytelling Center in NY and the founder of The Center for Engaged Storytelling (new). She has been a Senior Research Fellow for the International Peace institute at Rutgers University Newark under the auspices of UNESCO. As a spokesperson for storytelling she presents keynotes and workshops in conferences, villages, schools, universities and community events. She is a member of the Therapeutic Arts Alliance of Manhattan, and a senior teacher of Shambhala Buddhist meditation. Laura received the Brimstone Award for Engaged Storytelling, CHOICE award for best story collection and Sesame Street's SUNNY DAYS award for work with children worldwide. In 2011 she received a Life Time Achievement Award from the National Storytelling Network. She is co-faculty with Terry Tempest Williams' at University of Utah, consults with ETSU's CANCER STORIES project, and is spoken word consultant for Foundations, NGOS working in post disaster and conflicts. She recently appeared at the Newark Peace Summit and the Conference on World Peace and Values in Monterrey, Mexico. Her Most recent book is OUR SECRET TERRITORY: The Essence of Storytelling (Sentient Publications, June 2011). She is completing a new work: THE SANCTUARY OF A STORY (TBA). Laura is the mother of best selling author Ishmael Beah.

Please note that late registrations run the risk of not receiving the Zoom link in time for the event.

About the Dharma Gathering
The Dharma Gathering is a perfect introduction to meditation practice and the Shambhala teachings, as well as an opportunity to connect with like-minded New Yorkers. The evening consists of guided meditation, a talk by one of our teachers, and discussion.
This open house is an opportunity to meditate in a supportive group setting, to learn about how to apply the principles of meditation to daily life, and to meet with others interested in mindfulness.
Privacy Notice:
Please note that Dharma Gatherings are recorded for public viewing. If you do not wish your image to appear in a publicly viewable video, you are welcome attend the meeting while stopping your video. This can be done by hovering your cursor over the lower portion of the Zoom screen to expose icons. On the left is a video icon which, when clicked, will turn off your camera.