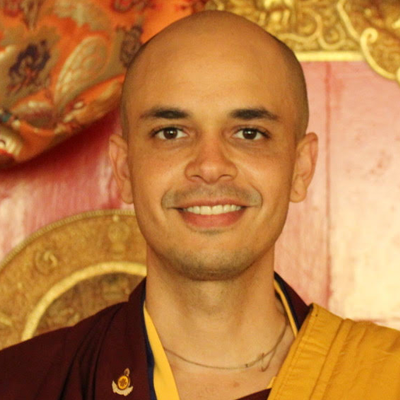 Rescheduled - Dharma Gathering: Manjusri's Smile: Connecting Intuition and Intellect with Prajna (Online)
with Lödrö Gyendon
Open to all. Zoom details sent upon registration.
---
In this dharma talk, we'll explore the facets of wisdom through invoking and befriending Manjusri, the Bodhisattva of Insight. Looking at the Bodhisattvas as expressions of our own being can support us in expanding our ideas of wisdom, compassion, and strength. When invoked, these beings can become helpful guides and friends on our spiritual path.
This talk was rescheduled from August 31st to October 5th due to technical difficulties.
About the Teacher

Lödrö Gyendon is an American biracial Buddhist monk living at Gampo Abbey in Cape Breton, Nova Scotia. Gyendon began his dharma training at Sravasti Abbey under the guidance of Bhikkshuni Thubten Chodron and, since 2014, under the guidance of Bhikkshuni Pema Chödrön at Gampo Abbey.

Please note that late registrations run the risk of not receiving the Zoom link in time for the event.

About the Dharma Gathering
The Dharma Gathering is a perfect introduction to meditation practice and the Shambhala teachings, as well as an opportunity to connect with like-minded New Yorkers. The evening consists of guided meditation, a talk by one of our teachers, and discussion.
This open house is an opportunity to meditate in a supportive group setting, to learn about how to apply the principles of meditation to daily life, and to meet with others interested in mindfulness.
Privacy Notice:
Please note that Dharma Gatherings are recorded for public viewing. If you do not wish your image to appear in a publicly viewable video, you are welcome attend the meeting while stopping your video. This can be done by hovering your cursor over the lower portion of the Zoom screen to expose icons. On the left is a video icon which, when clicked, will turn off your camera.