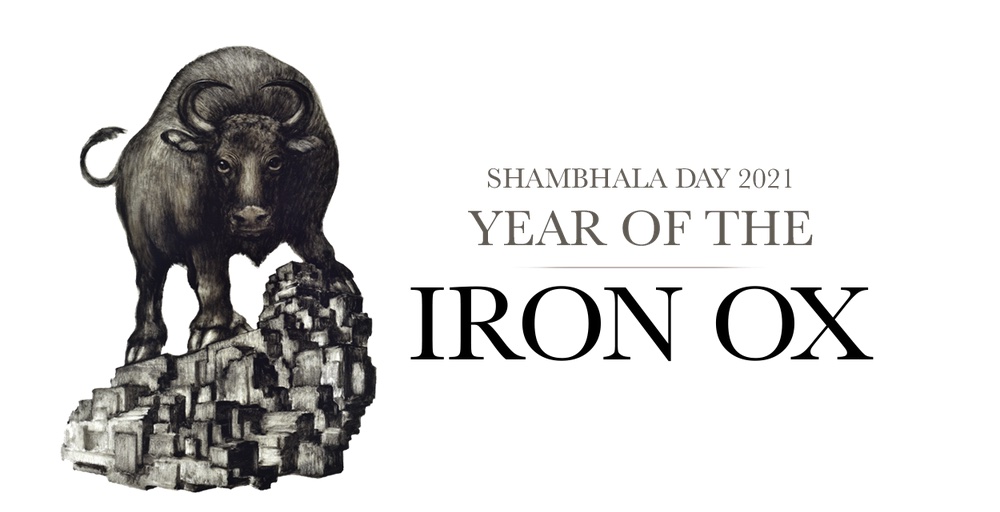 Shambhala Day 2021: Year of the Iron Ox (virtual)
Shambhala Day 2021: Year of the Iron Ox
The Shambhala community comes together in many ways – to practice, learn, serve others… and to celebrate! By joining spiritual practice with the practicalities, challenges and joys of everyday life, we aspire to create a society that expresses the dignity of human experience.
Based on the traditional Tibetan new year's celebration of Losar, the day is calculated according to the Tibetan lunar calendar, and is associated with a particular zodiac animal and element. The year 2021 is represented by the Iron Ox. We aspire to enter this new year with the spirit of trust in the basic goodness that connects us all.
Let's join together to celebrate Shambhala Day 2021 on Friday February 12, 2021. The following are opportunities for SMCNY to practice and to celebrate. Join us for any or all of the events.
PLEASE NOTE: Click on the orange links below to register for each separate event. Attend as many as you wish!
Practice Events:
11:00 AM EST Shambhala Sadhana, led by Shastri Sheila Bascetta.

Followed by
12:00 Noon EST Elixir of Life, led by Acharya Spiegel
(Join for one or both)
Live Broadcast:
1:00 PM EST Shambhala Day Live Broadcast, from Shambhala Global Services: Celebrating Shambhala Culture. SMCNY members may register for free through this link provided by SMCNY.
Evening Celebration:
6:00 – 8:00 PM SMCNY Shambhala Day Local Celebration
6:00PM

Food & Conversation: We'll gather together (virtually of course) for informal conversation while enjoying dinner or drinks.

6:45PM

Offerings: Members of the New York sangha will offer presentations of food, song, dance, and stories.

7:15PM

Leadership Presentations