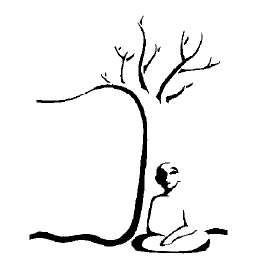 Meditation in Everyday Life (Online)
with Naoko Kojima & Dan Cayer
This course is open to all. The Patron rate makes it possible to support our online programming at this time. Otherwise, please feel free to pay what you are able. Registration is limited so please register soon! Zoom information will be sent upon registration.
Please register in advance; last minute registrants run the risk of not receiving their Zoom link in time to attend.
---
"By making a deep connection to the present moment and understanding our mind through the practice of meditation, we learn to make friends with ourselves…"
We are living in extraordinary times. The level of uncertainty is high and many of us are experiencing stress, confusion and fear as we shelter at home. How can we stabilize our thoughts and emotions? And how can we satisfy our yearning to help, to be a part of society? This challenging moment could be the perfect time to develop or stabilize a meditation practice.
While meditation has many proven benefits it is important to establish a consistent personal practice. This five part course is designed to help new meditators learn the basics of mindfulness meditation practice and how to bring its benefits into their daily lives. It is also helpful for more experienced meditators in stabilizing and deepening their practice and daily discipline.
By combining technique and view in a setting of support and community Meditation In Everyday Life provides you with all the tools you need to establish a strong meditation practice.
By establishing a consistent meditation practice, we learn to relax and simply be with whatever is going on in our lives. Over time, meditation helps us cultivate stability, gentleness, humor and courage in the face of all the complexities we experience -- our jobs, relationships and all aspects of daily life – so that we can bring sanity, clarity and compassion into our world, expanding outward to our friends, family, neighbors and society as a whole.
Meditation In Everyday Life consists of 5 classes addressing the following areas:
Class 1: Peaceful Abiding and Basic Goodness
Class 2: Mindfulness, Awareness and Gathering the Mind
Class 3: Obstacles & Antidotes: Working With Thoughts
Class 4: Genuine Heart of Sadness
Class 5: Everyday Life and Enlightened Society
Give yourself the gift of meditation and infuse your life and the lives of those around you with compassion, caring and kindness.
About the Teachers:

Naoko Kojima has been a student in the Shambhala tradition since 2007. She has served Shambhala New York in various capacities and is currently a member of the Practice & Education Committee and Finance Committee. Since 2017, she has been facilitating conversations for the Race, Racism and Racial Inequality group which she finds the most challenging and rewarding work.
Dan Cayer is a Westchester-based teacher and writer who is committed to helping others change habitual patterns, find freedom from pain, and create a sane relationship with their body. He is a longtime meditator and trained instructor. After a serious injury left Dan unable to work or take care of himself, he began training in the Alexander Technique. His return to health, as well as his deep experience with the physical, mental, and emotional aspects of pain and illness, inspired him to help others. Dan now teaches an integration of mindfulness and the Alexander Technique as a method of recovering balance and well-being.
Meditation in Everyday Life is the first class in the Shambhala Training curriculum. The Shambhala Training path is a secular course of practice and study suitable for both beginning and experienced meditators, and open to people of any spiritual tradition. This comprehensive overview of mindfulness meditation and contemplative living practices presents the profound, simple and incredibly relevant view that when we foster a more awake and compassionate relationship with ourselves and with others, we are creating a more awake and compassionate world.