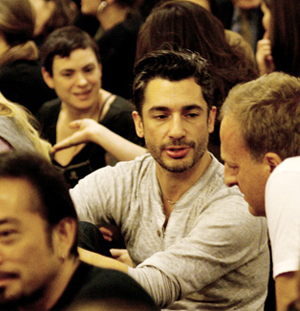 Dharma Gathering: Chaos and Uncertainty — Stepping-Stones on the Spiritual Path
with Jeff Rubin
Open to all. Zoom details sent upon registration.
---
Chaos and Uncertainty — Stepping-Stones on the Spiritual Path

When things aren't going the way we hope or expect, we quickly look to blame ourselves or others. In reality though, our real stumbling block is with the uncertainty and groundlessness that pervades our existence. Acknowledging uncertainty, viewing it as our path, can energize our spiritual growth and transform our lives.
About the Dharma Gathering
The Dharma Gathering is a perfect introduction to meditation practice and the Shambhala teachings, as well as an opportunity to connect with like-minded New Yorkers. The evening consists of guided meditation, a talk by one of our teachers, discussion, and a reception.
This open house is an opportunity to meditate in a supportive group setting, to learn about how to apply the principles of meditation to daily life, and to meet with others interested in mindfulness.
Privacy Notice:
Please note that Dharma Gatherings are recorded for public viewing. If you do not wish your image to appear in a publicly viewable video, you are welcome attend the meeting while stopping your video. This can be done by hovering your cursor over the lower portion of the Zoom screen to expose icons. On the left is a video icon which, when clicked, will turn off your camera.
About the Teacher
Jeff Rubin is a senior teacher and meditation instructor in the Shambhala Buddhist tradition, and has been directing meditation-based retreats for over 30 years. Since 2006 Jeff has been directing programs on Unconditional Healing, a new model of health that has helped countless people transform their relationship to pain, adversity, and illness, and unlock their inherent storehouse of confidence and resilience. Shortly thereafter, he established Healing Circles, meetings that provide community support and reinforce the view of unconditional health.
Recently, Jeff launched a brand new podcast, Unconditional Healing with Jeff Rubin, available at the Unconditionalhealing.org website or wherever you listen and subscribe to your favorite podcasts.