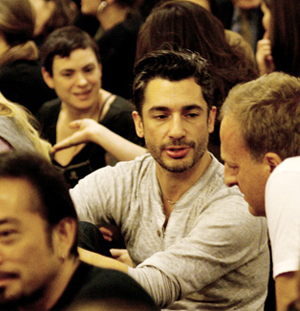 Dharma Gathering: The Way of the Bodhisattva
with Joseph Mauricio
Public Meditation and Dharma Talk

Tuesday evenings, at 7pm
at the Integral Yoga Institute in the Rose Room
227 West 13th Street (between 7th and 8th avenues)
New York, NY 10011
$10 general admission, $5 students
---
THE WAY OF THE BODHISATTVA:
A Practical Guide to Living a Life of Service
The Way of the Bodhisattva by Shantideva is a seminal text in the Mahayana Buddhist tradition. It is a practical guide to opening to a life of compassionate service to ourselves and our world. Living a life of compassion is not only possible, it is a practical way of self-empowerment and fulfillment.
We will discuss Shantideva, a poorly regarded student who nonetheless manifested as a preeminent teacher, poet and sage of the Mahayana Tradition. We will look, briefly, at the 6 Paramitas, the map to an awakened life of personal actualization through social engagement.
About the Dharma Gathering
The Dharma Gathering is a perfect introduction to meditation practice and the Shambhala teachings, as well as an opportunity to connect with like-minded New Yorkers. The evening consists of guided meditation, a talk by one of our teachers, discussion, and a reception.
This open house is an opportunity to meditate in a supportive group setting, to learn about how to apply the principles of meditation to daily life, and to meet and mingle with others interested in mindfulness.
If you're new to Shambhala NYC, we definitely encourage you to join us on a Tuesday night. Bring your friends!
Tonight's Teacher:
Joseph Mauricio, a senior teacher in the Shambhala Buddhist Tradition, is a student of Meditation Master Sakyong Mipham, Rinpoche. He is a writer, lecturer, and performer, and the founder of LIFEWORK Personal Coaching Services