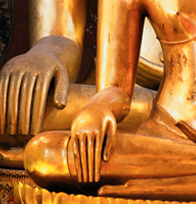 Community Nyinthun: Afternoon Session
Please join us for the afternoon session of our Community Nyinthun, a day of practice and connection. This Community Nyinthun will include periods of sitting and walking meditation, group conversation with the Council, and tea and refreshments.
A nyinthun is a day-long meditation session: nyin is Tibetan for "day", and thun means "session" of formal meditation.
For meditators of all experience levels, this community nyinthun is a rare opportunity to take a day or half day to relax with ourselves and refresh our sense of well-being, goodness, and sanity.
The nyinthun will be held at Integral Yoga Institute. To create and maintain a container that provides maximum benefit to everyone, retreat participants are requested to commit to stay for the full afternoon session.
Click here to register for the full day (9:30am-5:30pm).
Click here to register for the morning session (9:30am-12:30pm).
Click here to register for the afternoon session (1:30pm-5:30pm).
Location:
Integral Yoga Institute in the Rose Room
227 West 13th Street (between 7th and 8th avenues)
New York, NY 10011
Suggested Donation:
Members: $15 per session
General: $20 per session